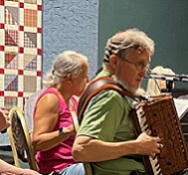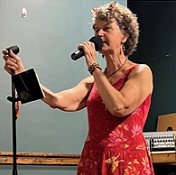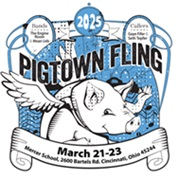 Cincinnati Contra Dancers
---
Pigtown Fling 2015!
Who:
What: Pigtown Fling is an annual Contra Dance weekend sponsored by the Cincinnati Contra Dancers.
When: Friday, March 27th to Sunday, March 29th, 2015.
Where: Purcell Marian High School in Cincinnati OH. The address is 2935 Hackberry St., Cincinnati, OH 45206.
Why: Because Pigtown Fling is the best way to spend that weekend! Great music, great people, great dance!
Registration Form
The registration form is available in 2 parts. Click
here
for side one, and click
here
for side two. Please note that one of the hotels listed on the registration form, The Quality Hotel & Suites Central at 4747 Montgomery Road, is no longer in business. Another alternative in the vicinity is Courtyard Cincinnati Midtown/Rookwood at 3813 Edwards Road.
Schedule
Friday, March 27
7:00 PM: Registration in Lobby
8:00 PM - 12:00 AM: Contradance in Gym

The Ripples with caller Ryan Smith

Saturday, March 28, 2015
10:30 AM - 5:00 PM: Workshops
12:00 PM: Lunch in Old Gym: Please claim your ordered lunch by 12:45. Unclaimed lunches will be available for sale after 12:45.
7:30 PM - 8:00 PM: Waltz in Gym
8:00 PM -12:00 AM: Contradance in Gym

Free Raisins and caller Lisa Greenleaf


Saturday Late Night After Party
Darlene Underwood's Home
235 Hosea Ave, Cincinnati OH 45220
(513) 861-0116

Sunday, March 29, 2015
10:30 AM: Scrumptious Sunday Brunch in the Old Gym
10:30 AM - 11:45 AM: Waltz in the Gym Sunday Morning Waltz Band
12:00 PM - 3:00 PM: Contradance in Gym

Free Raisins and caller Lisa Greenleaf

Please click here for details about the workshop schedule.
T-Shirts
The Pigtown 2015 T-shirts are available in charcoal, indigo blue, kiwi, and mint:.
Pigtown Fling 2014 videos