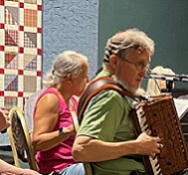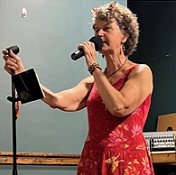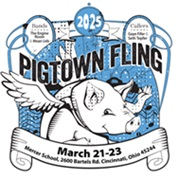 Cincinnati Contra Dancers
---
Pigtown Fling 2016
March 11, 12, 13
Purcell Marian High School
Cincinnati OH
The Pigtown flyer with the details, including the registration form, is available via this link. The Saturday workshop schedule and details, along with the weekend schedule, are available via this link.
---
Featuring music by:
Riptide brings irresistible grooves and ripping tunes, collected from New England, Quebec, Ireland, Appalachia, and beyond. Featuring Glen Loper on the mandolin, Alden Robinson on fddle, Owen Marshall on guitar, and the legendary Mark "Pokey" Hellenberg on percussion.
Changeling
presents the fire and stark beauty of the Celtic traditions with (in the words of one fan) "the power of ten in a package of two." Deborah and Karl Clark Colón create tremendous musical energy, yet keep the closeness of a quiet conversation.
---
With calling by:
Will Mentor is a greatly admired contra and square dance caller from northern Vermont, known for his clear teaching, upbeat wit, and relaxed stage presence.
Liz Natter is from Lexington, KY. She likes dances with good flow and memorable fgures, and strives to get out of the way so dancers can connect with one another and the music.
---
T-shirt previews
The option for a blue shirt was added after the registration forms were printed. Please write in "blue" if you'd like to order it!
| | |
| --- | --- |
| mocha | olive |
---
Pigtown Fling 2015 videos